Spain Virtual Phone Numbers
Spain Virtual Phone Numbers
Spain virtual numbers allow you to take and make calls from anywhere. Buy a Spain phone number online and start managing calls in minutes!
Buy Spain Phone Numbers Online, Risk-Free
Trusted by Over 7,000 Global Companies
Spain Virtual Phone Numbers for Business
Spain virtual phone numbers, also known as VoIP numbers, are real phone numbers with business features built in. Manage your numbers from AVOXI's intuitive web-based interface or route our voice services through your existing phone system.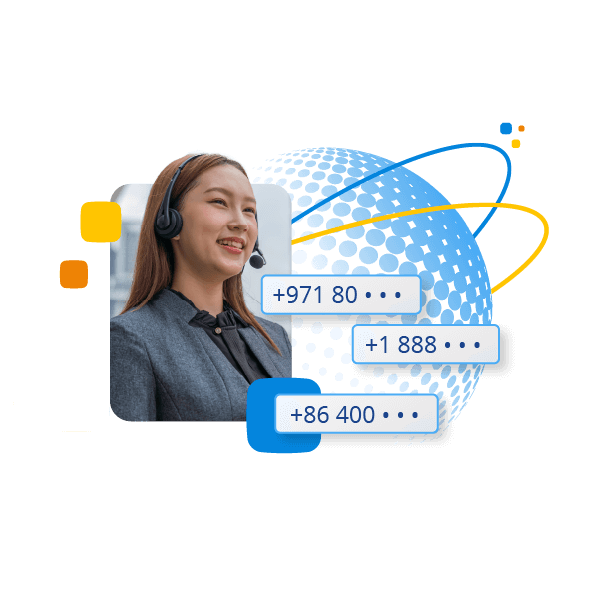 Get Virtual Spain Numbers for Any Business Need
Available types of phone numbers in Spain include:
Toll Free: Professional-looking phone numbers that are free for callers to dial.
Local DID: Phone numbers with city-specific dial-codes. Phone numbers labeled "TrueLocal" ensures your local caller ID displays during outbound calls.
National: Numbers made to be reachable from all of Spain at the same price anywhere in the country as a local phone call.
UIFN: Universal toll free numbers that allow businesses to use a single toll-free number to reach customers in 60+ countries around the world.
Excellent Quality VoIP Calling in Spain & Beyond
Calls are carried over tier 1 networks and secure SIP connections
Our 4.2 MOS Score sets the standard for global call quality
Algorithms trigger real-time alerts for security risks and suspicious traffic
Monitor VoIP quality issues like latency, jitter, and packet loss with Call Insights™
Reviews from Our Customers
Don't just take our word for it. See why thousands of businesses rely on AVOXI as their business VoIP provider.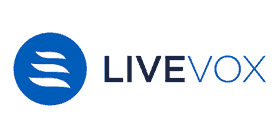 As someone working for a Contact Center as a Service (CCaaS) company, Avoxi has been a good partner on every stage of the project, since the initial onboarding to their support and Account Managers team. Highly recommended if you need voice solutions worldwide.
Oscar Orozco
Carrier Operations Engineer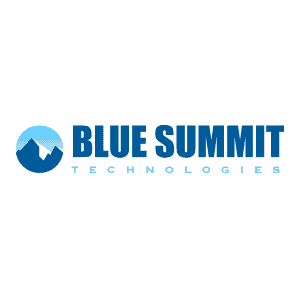 AVOXI has helped us to grow our business across the globe. As we expand into new countries, we just get a new number from AVOXI. They make it simple and cost effective. Service is amazing. We highly recommend using them.
Brad Taylor
Executive / Owner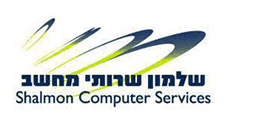 Great DID services. Very broad coverage with instant activation for most countries we need. Sound quality is high grade and prices are fair to use.
Ami Shalmon
CEO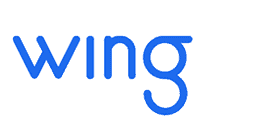 AVOXI has a comprehensive system that allows for all your call center needs. Easy to work with, support is great. Great rapport with the product managers and support team to fix opportunities and create new innovations.
Vito Vicario
Software Implementation Administrator
How to Buy Spain Phone Numbers Online
AVOXI makes it easy and affordable to buy Spain phone numbers you need online.
Set up your VoIP number service in four easy steps!
Choose Your Phone Number
Pick toll free, non-geographic, or local call tracking phone numbers from over 170+ countries around the world or port a phone number you already have.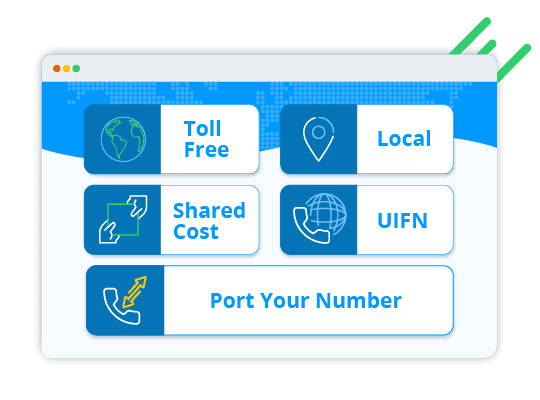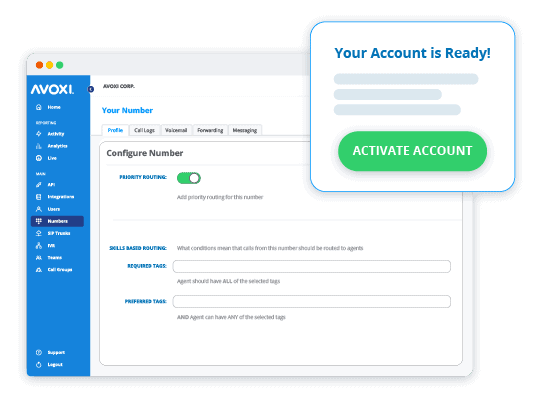 Configure Call Forwarding Settings
After purchasing your Spain phone number, you'll receive an email with your login information and introduction to the platform. Log in to begin configuring forwarding rules, IVR menus, manage numbers and self-service your account.
Download AVOXI Apps
Browse our optional applications like click-to-call (for softphone users) and mobile app so you can make and take calls from home, the office, anywhere!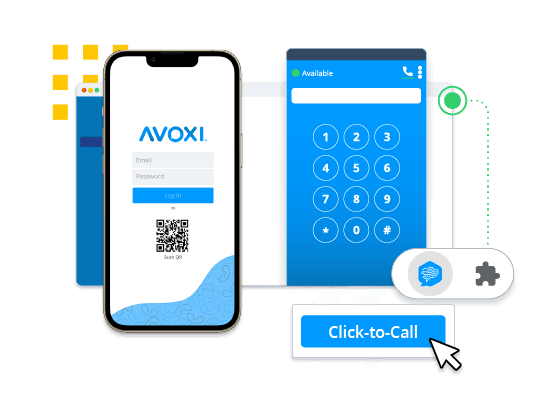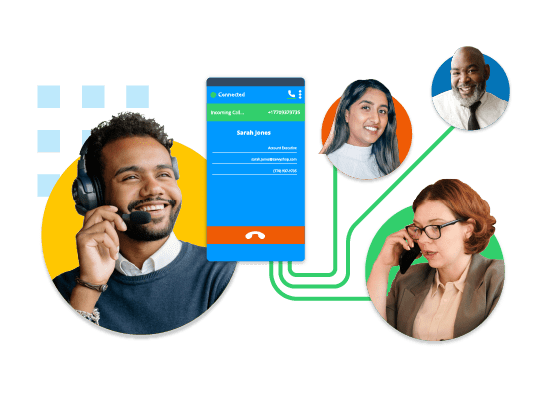 Start Connecting with Customers!
Enjoy crystal-clear voice services in Spain and beyond! One of our voice experts will reach out to confirm your account and ensure your service is set up for your specific preferences. 
Common Questions About Spain Virtual Numbers
When you purchase a Spain virtual number in the online shopping cart, your new business number is set up and activated within 30 minutes or less. If your business email does not match your listed company, an AVOXI expert may reach out to confirm your account details before unblocking the number.
To use our services with existing virtual numbers in Spain, simply transfer your VoIP phone numbers to AVOXI. Porting Spain virtual telephone numbers is a simple process.
AVOXI provides many local and toll free phone numbers in Spain. Popular dial-codes include: 
Spain Toll Free
Barcelona
Cordoba
Madrid
And more!
Don't see the area code you're looking for in our shopping cart? Let us know and we'll get it added for you!
Yes, if you are using an AVOXI number designated as TrueLocal. These numbers are guaranteed to work as your outbound caller ID and can be found listed in our online shopping cart.
There are no special documentation requirements to get toll free, local, national or mobile Spain virtual phone numbers.
Yes! AVOXI SIP trunking is a perfect alternative to Spain Calling Plans in Teams. Our built-in, Microsoft-approved SBC solution makes configuration in Teams quick and easy. 
Don't See Spain Phone Numbers Available Where You Need Them?
We're here to help! Contact us today so we can help find the right business number for you.
Spain Virtual Phone Numbers
A Spain virtual phone number, also known as a virtual phone number (Spain) or VoIP Spain, is a telecommunication service that allows individuals and businesses to establish a virtual presence in Spain without the need for physical phone lines. It offers a convenient solution for connecting Spanish customers efficiently and effectively, regardless of your geographical location.
This article will provide a helpful overview of virtual phone numbers and highlight their benefits and usage. Readers can expect to learn how these virtual phone numbers can enhance personal and professional connections within Spain and abroad.
Virtual phone numbers in Spain operate on Voice over Internet Protocol (VoIP) technology, which enables the transmission of voice calls over the Internet rather than traditional telephone lines. This innovative system allows individuals and businesses to obtain a local Spain phone number that can be accessed and managed remotely from any location with an internet connection.
One of the key benefits of a Spain virtual phone number is the elimination of physical boundaries. With this service, individuals and businesses can establish a local presence in Spain, even in a different country. This is particularly useful for individuals with friends or family in Spain who want to maintain regular contact or for businesses seeking to expand their customer base in the Spanish market.
Moreover, a Spanish virtual phone number offers enhanced flexibility and scalability. These numbers can typically forward calls to any designated phone number or device, such as a mobile phone or computer. This allows users to receive calls wherever they are, eliminating the need for multiple phone lines or physical office spaces.
Another advantage of virtual phone numbers in Spain is their cost-effectiveness. Traditional international calling can be expensive, but with a virtual phone number, individuals and businesses can enjoy competitive rates for incoming and outgoing calls. Virtual numbers are an affordable solution for maintaining frequent communication in Spain.
Virtual phone numbers in Spain can come with a range of additional features such as voicemail, call forwarding, and call recording. These features can make it easier for businesses to manage customer inquiries and maintain a high level of service.
Virtual phone numbers for Spain offer a practical solution for businesses seeking to connect efficiently and effectively. With the ability to establish a local presence, enjoy flexibility, and access additional features, a Spain virtual phone number can significantly enhance professional connections with the country. 
Spain Business Phone Number
A virtual phone number is ideal for creating a Spanish business phone number. Using a telecommunication service enables businesses to establish a virtual presence in Spain without physically being located there. These virtual phone numbers offer numerous advantages and unique features that make them indispensable for businesses seeking to expand their operations or improve their customer service in Spain.
Every nation around the globe has what is known as an international dialing code to help facilitate international phone calls. Outsiders dialing into Spain must enter the Spain number code, +34, before dialing the phone number itself. The format of a Spanish phone number generally consists of nine digits. For instance, a Spanish phone number example might look like this: +34 91 123 4567.
One of the primary advantages of a Spain virtual phone number for businesses is the ability to establish a local presence in the country. Regardless of the physical location of the business, having a local phone number creates a sense of familiarity and trust among Spanish customers. It gives the impression that the business has a physical office or branch in Spain, which can lead to increased credibility and better overall customer engagement.
Furthermore, a Spanish business phone number enables businesses to manage and handle their incoming and outgoing calls easily. These virtual phone numbers can forward calls to any designated phone number or device, such as a mobile phone or computer. This flexibility allows businesses to maintain constant communication with their Spanish customers, whether they are on the go or working remotely.
Another unique feature of a Spain virtual phone number is the ability to choose from a wide range of additional features and services. These may include call recording, voicemail, call analytics, and automated call routing. These features can significantly enhance a business's customer service capabilities and communication efficiency.
In addition to establishing a local presence, a Spain virtual phone number offers cost-effectiveness for businesses. International calls can be expensive, but with virtual phone numbers, businesses can enjoy competitive rates for both incoming and outgoing calls. This helps businesses save money on long-distance communication costs while maintaining effective communication channels with their Spanish customers or partners.
Moreover, a Spanish virtual phone number is easy to set up and can be operational quickly. Businesses can obtain a virtual phone number and start using it without the need for complex infrastructure or installation processes, saving time and resources, and allowing businesses to focus on their core operations and customer interactions.
A Spanish business phone number or virtual phone number allows businesses to establish a virtual presence in Spain. With their local phone number, businesses can gain credibility, improve customer engagement, and expand their operations in the Spanish market. The ability to manage calls efficiently, access additional features, and enjoy cost-effective communication are key advantages that make Spain virtual phone numbers indispensable for businesses operating in today's globalized world.
How to Buy a Spain Number
If you are wondering how to buy a Spanish virtual number, the process is straightforward and can happen entirely online. Here is a step-by-step guide on buying a Spain number and getting started with your virtual phone services.
Visit the AVOXI online cart – Explore their available Spain numbers and subscription plans. Look for options that align with your requirements, such as local or toll-free numbers.
Select the type of Spain phone number – Choose the type of Spain virtual phone number that suits your needs. You may have options for local numbers specific to a particular city or a toll-free number that allows your customers to reach you without incurring charges.
Select a subscription plan – Plans are available based on your expected call volume and desired features. Select a plan that best fits your usage requirements and budget.
Choose optional features – Depending on your needs, you may want to add optional features to enhance your virtual phone number service. 
Check documentation and verification requirements – Some number types may require certain documentation or verification to comply with local regulations. This could include submitting identification documents, proof of address, or business registration information. Be prepared to provide any necessary documentation during the purchasing process.
Complete the purchase – Once you have made your selections, proceed to the checkout. Review your choices, ensure the accuracy of your contact details, and make the payment according to the chosen subscription plan. 
Activation and setup – After the purchase, AVOXI will activate your Spain virtual phone number. Once the setup is complete, your Spain virtual phone number is ready to use. Promote your new number to your customers or contacts in Spain, and start receiving calls.
Remember to maintain an active subscription and renew it as required to ensure uninterrupted service. Contact AVOXI's customer support for assistance if you encounter any issues or have questions during the buying process.
Use AVOXI and have access to an inventory of hard-to-get virtual numbers. Easily integrate the new international numbers into the technology of your choice. AVOXI lets you instantly activate local-facing phone numbers in more than 170 countries. Order online and start taking calls in minutes.